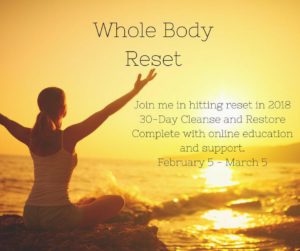 Depending on Whole Body Reset Plan – ranges between: $100-$250
****(that's less then $10 per day for tons of education and support)
Join me and other experts in the Health and Wellness world as we combine forces to create an incredible journey to create a Whole Body Reset.
What's included in this cleanse:
A support group with Facebook
An ebook to help guide you
Videos to guide you through each supplement, how to prep for the cleanse, detox methods, self care, healthy snack ideas and more
30 day Grain free meal plan to use during or after the program
Sample calendar on how to run your day
15 minute consult with me to fine tune what your goals are
Detox protocols
Supplement protocols
How do I sign up?
Reach out to me if you need help fine tuning what you need.  The most beneficial items to start with are: GX Assist, Zendocrine soft gels, Zendocrine Complex, PB Assist and Lemon Oil.  Brief description of each below.  Go here to add them to your cart OR
1. Set up account my clicking here, 
2. Click Join and Save,  Scroll to the bottom and click Join Doterra
3. Once you've selected your country, select "Wholesale Customer
4. The "Enroller ID" and "Sponsor ID" boxes should already be filled in for you if you've logged in correctly to my virtual office but if not, enter 2692532 in both boxes so I can be sure to help support you.
5. Fill out your details including name, address, billing address, shipping address and remaining contact info.
6. Select,time zone, password, Agree to the basic Terms and Conditions
7.  Select your initial order, meaning, your $35 Introductory Essential Oil Packet plus the first products you'd like to choose a la carte by typing in the names of the oils or products OR you pick a Enrollment Kit (Cleanse and Restore).
What do you need to start this cleanse?
Let's talk so I can come up with the most beneficial protocol for you.  It typically looks something like this:
GX Assist – used for 10 days as a preparatory cleansing step.  It's a combination of essential oils and caprylic acid to help support a healthy digestive tract by creating an unfriendly environment for potential threats that can disrupt digestive immunities and cause digestive upset
Zendocrine – helps cleanse the body of toxins and free radicals that can slow the body's systems down, leaving a heavy, weighted feeling.
Zendocrine Complex – whole-food extracts in a patented enzyme delivery system that supports healthy cleansing and filtering functions of the liver, kidneys, colon, lungs, and skin
PB Assist – pre-biotic fiber and six strains of probiotic microorganisms in a unique doublelayer vegetable capsule. It delivers 6 billion CFUs of active probiotic cultures and soluble pre-biotic FOS (fructooligosaccharides) that encourage friendly bacterial growth.
Lemon Oil – cleansing, purifying, and invigorating properties of Lemon make it one of the most versatile oils and great to add into your water.
**For the full kit with all these plus more included the Cleanse and Restore Kit.
Who is this good for?
If you are feeling low energy, fatigue, bloating, extra weight, stressed out, headaches, sleep issues this cleanse is great to give your body some time to reset.
Who is this cleanse not appropriate for?
If you are pregnant please wait till after your pregnancy to consider doing this.
——————–
"Thanks, Rochelle. I have been juicing all weekend and I just made your yummy Muffins. You have inspired me to really get consistent again with juicing." 
Robyn England
Rochelle Ludovisi has been a wonderful advisor, and sets the example you want to follow when trying to change your lifestyle. She lives the way she preaches. It has really been helpful to be able to go to her for advice, support and to have her as a person that monitors your progress with suggestions along the way. If you try to do a lifestyle change on your own it's easy to just quit if you only have yourself to answer to. " 
Monica Trivette
Mom and Teacher, Idaho
"My weight is down, I'm exercising regularly and I now eat millet! She's been such a great advocate for the life style improvements my husband and I need. With the results we've seen in our first three sessions, we've made the commitment to have her consulting us all year."
Karen Zabaneh
VP Pacific Imports, Orange County, CA
Quotes Directly Taken from our last Group Cleanse:
Breakfast……James and I  have decided that eating clean foods will continue after the cleanse! I am so grateful to Liz Perkins for getting me involved so I  could get my husband involved. To date he has lost 23 lbs♡♡♡   Healthy husband and family for 2017 is achievable. Thank you to all the professional health advocates for the videos, it helped a lot, because I didn't have to try and explain things to him. Best wishes to all!
MS, Hanksville.  Our refresh together was so sustainable and doable, that I'm still doing it. I like how the suggestions through videos are things that I can incorporate into my daily or weekly habits by just taking a few minutes a day. Thank you! (The calendar really helped too – so that I keep going.) I especially liked how Liz shared the list of foods to minimize and foods to maximize instead of going cold turkey, which does not work for me in the long run. I think my favorite parts were the oral care, especially flossing with peppermint and rubbing gums with frankincense, and the detox baths. My entire family is taking baths, we are fighting for tub time in our shorty clawfoot tub! I visited may naturopath who loved the detox regime and prescribed even more  castor oil packs (although I rub a teaspoon on my skin, wear an old T-shirt, and curl up with the hot water bottle for the night. Thank you again, for such an informative and helpful forum!
XS dC from LA.  Thank you to everyone who brought this group together. It was so nice to know others were experiencing some of the same ups and downs. I lacked in the exercise department but worked hard to cut out carbs, dairy, and cut down on caffeine and sugary foods for the 21 days. I only cheated once or twice toward the end but ended up losing between 4 and 5 pounds. I feel a little more focused and better about myself. I plan to incorporate the oils, baths, and castor oil as much as possible. Thanks again everyone and Lindsea Willon for getting me started. Hopefully we can all do something similar again in the future.
CM  from NM.   Thank you to everyone for making this group effort possible. Even when silent and absent from the discussion and posts, my efforts continued and were fueled by the momentum of all your amazing energy in its varied forms. Just seeing there were posts to read in my inbox was reminder enough there was support out there.
I have cut down my caffeine intake drastically (6-8 cups down to 3 or none!) and increased my water intake substantially (from none at all to 4-8 cups a day with turmeric/ginger tea or lemon) and continue taking the zendocrine oil and applying it topically on my liver. (Not a fan of the smell so am glad the taste is quite pleasant.)
More importantly, my family has followed me on this journey without even realizing it.  (Okay. So. My darling husband knew and did his best to support me, as always. My delightful daughter remained blissfully unaware. Bottom line: All aboard.) I've made crockpot bone broth soup 1x/week for the 3rd week in a row (with celery/carrots/onions) and enjoyed freshly grilled fish for dinner 1-2x week.
I still have sugar and won't ever turn down a glass of bubbly if I feel like having it. Rochelle told me this cleanse is an individual journey so my mantra has been to remember 'some is better than none' when attempting better habits and health.
I feel blessed to have taken the first steps on this journey to cleaner living in a format as accepting and non-judgmental as this group has been. May all the positive energy from our New Year, New You group spill over into the universe and shower everyone with hope!
If I never meet all of you ladies, thank you again for sharing such a wonderful experience. Happy 2017!