For today only, buy 1 Petal Diffuser and get 1 (15ml) Wild Orange AND 1 (15ml Cassia) Free!
✨
If you need help getting started, call me as this promotion is only good for today (Friday, November 24, 2017) and I'd love to help you get started.  310.529.3821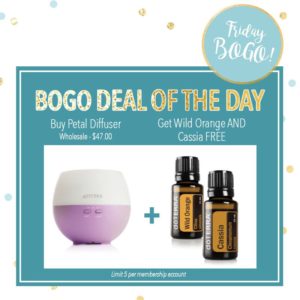 The Petal Diffuser is a small, convenient, and night-friendly diffuser with a far-reaching mist designed to help purify and humidify the air around you. Some of its features include:
…1, 2, and 4 hour diffuser settings.
…ultra-fine mists reaches up to 330 square feet.
…simple, 3-piece diffuser that is easy and convenient to use.
…stable and light for many spaces in your life.
…optional LED light.
Click here for more information about the Petal Diffuser.
WILD ORANGE
With multiple health benefits and an energizing aroma that can uplift the mind and body, Wild Orange has become one of the top selling essential oils…and if you have ever experienced its refreshing, sweet aroma, you will understand why! 🙂 Some of it's uses and benefits include:
…useful for purifying and cleansing the air.
…promotes an energizing and uplifting environment.
…cleanses surfaces around the home.
…provides a scrumptious addition to some of your favorite recipes.
…increases awareness.
…works as a wood polish for furniture.
…supports the immune system.
…uplifts the mind and body.
Click here for more information about Wild Orange.
CASSIA
Extracted from the bark of a Cinnamon Cassia Plant, Cassia is a warm and spicy essential oil with a myriad of benefits that can help the mind and body. Some of these benefits and uses include:
…promotes healthy digestion.
…a flavorful spice that can be used to replace cinnamon and makes for a great addition to different types of entrees, breads, and desserts.
…supports healthy immune function.
…maintains cardiovascular health.
…creates and uplifting atmosphere that will promote emotional health.
…provides a calming effect.
…when applying to the skin, provides an uplifting and rejuvenating look.
…produces feelings of excitement.
…supports hydration.
Click here for more information about Cassia.
—————————
Here's all of the BOGO rules, but I wanted to remind you of a few of my personal tips to help:
There is a purchase limit of 5. If you see a promotion that interests you, don't wait. Seriously, they have been known to sell out quickly!

Use your LRP Template (purple button) to make the purchase. You will earn back your shipping costs, and if your purchase is 50PV or higher, you will earn points.

You must hit the "Process Order Now" button inside the LRP template. You can NOT simply add it to your cart and wait for the order to be processed on your "normal" date. The promo is available for that day only!

Only add the "buy" item to your cart. The "free" item will be added automatically.

At the end of the BOGO week, verify that you only have your "normal" LRP Template active. Some customers find it beneficial to open "additional" templates to process their BOGO offers. However, if you choose to do this, be sure to cancel these additional templates at the end of the week so you won't begin receiving additional "auto" orders.
Take care,